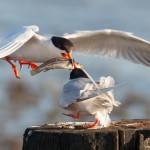 Ah…. Spring is in the air.  Single men are polishing their sports cars, buying new tires for their "I got one too" BMW 3 series, and laying down some cash for a few new spring shirts, all in the hope of attracting a nice girl.  Yeah, right… wrong bait for that.  Want a sure fire way of snagging a mate?  Try a plump fish.
That is how a romantically inspired Forster's Tern will tell a hot, curvy female tern that he is worthy of her attention.  He entices here with a nice, plump, slimy, fish.
Click here to see how a suave Tern bribes one babe of a bird.