Seagulls and Catching the Winter Light
I got a call from my friends Michael and Mati to run out and take some pictures.  Michael had just purchased Mati a new DSLR and she was excited to snap a few.  They wanted to head down to the beach at Atlantic City, New Jersey and find some photogenic seagulls that were sure to be mulling about.  Now normally I would jump on any excuse to take pictures, but what gave me pause was this was February and it was cold.  On top of that, it is not like they were chasing some rare seagulls that blew in from South Africa or something, but they wanted to take pictures of your run of the mill Jersey Shore beach rodents.  Oh, and it was cold.
Seize All Opportunities!

Oh what the heck, I knew there would be cold beers at the end of this journey so I grabbed my gear, pulled on a baggy sweatshirt for insulation, and stuffed a scarf, gloves, and wooly hat into my bag and off we went.
It was a sunny, cold, and windy day.  When we arrived at the board walk, the sun was at its golden hour before sunset.  Everything was glowing gold and looked quite nice despite my slowly numbing nose and fingers.  The sun and wind were behind my right shoulder as I looked out onto the ocean and I was being pelted by a grit coming from the beach and casino parking lots behind me.  This Jersey grit is a unique combination of sand, cigarette butts, and plastic cup lids.  Ah… nothing like the Jersey beach in February.
Now where were those photogenic beach rodents?
Bait and Light
Michael and Mati push forward through the sand to my left.  They stopped halfway to the crashing waves and Michael pulls out a plastic bag.  Out from the bag he starts pulling chunks of stale disgusting bread.  Well!  Nothing gets a frigid Gull going more than the sight and smell of stale gross bread chunks.  Actually it was like some sort of bugle call for war because in moments, the sky was full of gulls not shy about begging and pecking for free crap.  
Now with the wind in their faces..er.. beaks, the gulls just hung in the air almost stationary in the wind.   Add the beautiful golden light from the setting sun, and these gulls looked pretty good.  I kinda felt bad calling them rodents; well not really, but they did look good.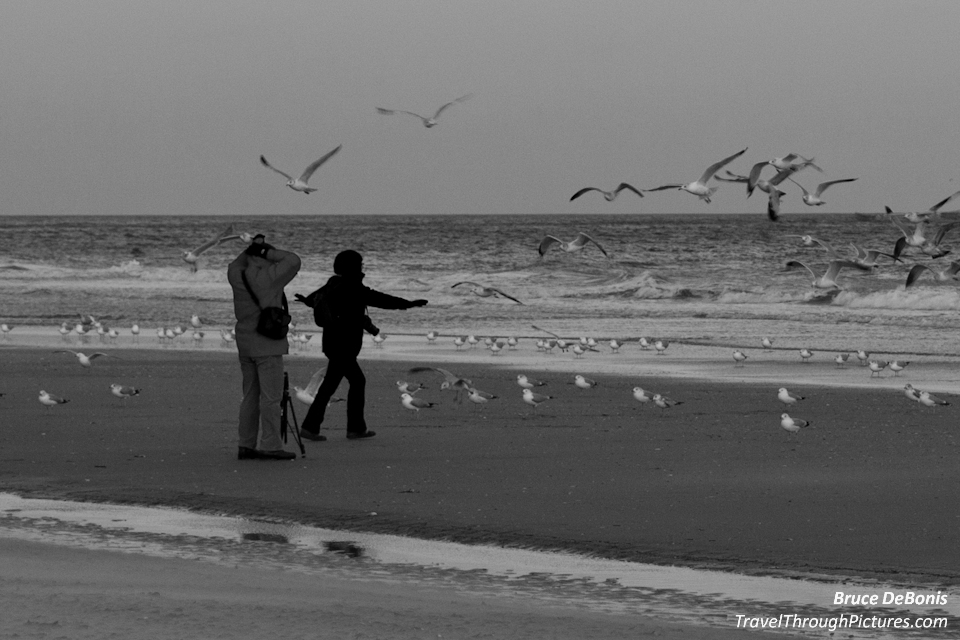 Position and Snap
I moved to where the gulls were bathed in light and started shooting.  I think my Canon 5D MkII looks best at ISO 200 so I always start there and did not change this setting.  Always shooting in Aperture Priority Mode, My 70-200 f/2.8 IS L lens was giving me shutter speeds of around 1/800 to 1/1000 at f5.6.  This was enough to freeze the birds particularly because they were floating and not moving very fast.  I always try different f/stops but my keepers were mostly at f/5.6.  
Regarding some post processing issues, getting the correct white balance is really hard and I don't think even this marvelous 5D MkII does a great job of it. As the sun set, the white balanced changed too so I had to kinda guess what the proper color toning was based on my memory.  You may notice that the white balance shifts from picture to picture here and that is partially because of the variability introduced in my gear, but mostly because of my lack of post processing skills.  That's OK, this is how you learn, and I am happy to say I am getting better with each editing session.
All in all, I was surprised that I got some nice shots as I never planned to do anything that day but watch television and surf the 'net and we did finished it all off with pints of Guinness at a local watering hole. 
The Equipment:
Canon 5D Mk II
Canon 70-200mm f/2.8 L IS II
Grody's Bag O'Stale Bread