Tyler Arboretum: Ponds, Butterflies and Flowers
I shot these snaps one afternoon at Tyler Arboretum sometime in July 2012.  Tyler Arboretum is in Media PA just outside of Philadelphia.  I really liked my trip here, although I must say it attracts plenty of children.
Besides a huge area of ponds, flowers, and all kinds of greenery, they have a screened in butterfly hut that is filled with butterflies the groundskeepers snatch from the arboretum.  I call this the loony bin as all the butterflies look like nervous wrecks from being chased around by little, booger-nosed terrorists.  No matter, as the grounds are loaded with flowering plants each with their fair share of pretty pollinators.
Getting a great pic from a bad pic
Look at what I did with this terrible picture.  You gotta love software that saves more than that great photographer from Bethlehem.  The snap on the left is exactly what came out of my camera with no processing at all.  The pic on the right is the same one but I flipped, cropped, shoved, tweaked, and prayed over it using that great transformer of picture's souls, LightRoom 4.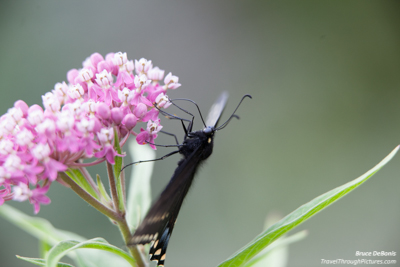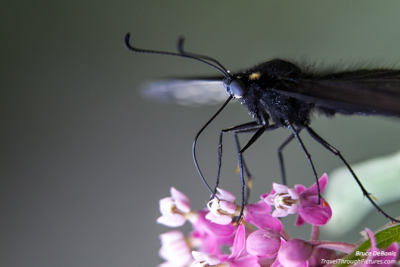 I used a great lens
I shot all of these pics here with one of the most fantastic of all Canon lenses, the 70-200mm L f/2.8 IS II.  I am always amazed at the pictures it takes and how it handles, focuses, and is just a joy to use.   Most probably would not think of using their zoom lenses for macro, close up photography but you can.  Just pop an extension tube between your camera body and lens and you can focus up close.  Read here for more on extension tubes.
For the pond pics, I shot these at f/2.8.  That means the aperture was wide open and therefore everything is out of focus except for a narrow band.  This is also known as a shallow depth of field (DOF).  Click here for more on DOF.  Unfortunately, lenses that open as wide as f/2.8 are very expensive but you can get close to this effect with your zoom by doing the following:
Open your aperture to as far as it will go (smallest f/number)
Zoom to the maximum magnification
Use an extension tube and get close to your subject (I recommend a thin one to start, say Canon's EF 12 II model)
The Equipment:
Canon 5D MkII
Canon 70-200mm L f/2.8 IS II, with
Canon EF 12 II extension tube
Manfrotto 190 CXPRO4 tripod
Manfrotto 498rc2 ball head
LightRoom 4